Greetings!
10/29/04
You know, the longer I go between updates, the harder it is to get these things together.
Today's update, done on the last weekday before Samhain, is mostly essays. Several of them are brand new, never-before seen. You'll find them in the essays section. One is in the Chaos section there, and the others are generally in the musings.
Enjoy, and hopefully I'll have a few more shortly.
06/22/04
It's been a long time since I last updated. In fact, one season has ended, another has come and gone, and we're on the cusp of a new one. About 4 months ago was the anniversary day that I last updated on.
I don't get a lot of encouragement to update. I realized this recently, and suspect that most of that has to do with my LiveJournal account.
There are some fun things lying around on my website. Some of them have been here for a long time, unlinked. Others have been around a very short time, but came up before this update. And there are, of course, things that many have read, but some have been revised. . .
I have reorganized my essays to make them easier to navigate, and added an entire section of chaos writings.
I'm constantly looking for new stuff to update with. If you remember something I've written and would like to see it, please let me know. I'll try to track it down.
02/18/04
And a happy anniversary to me!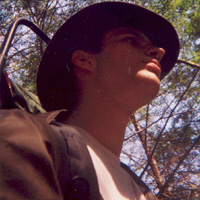 Well, it's been a full year since I started this webpage. It's grown quite a bit in both size and shape, and it's been helped along with the increased amount of writing I do on my LiveJournal. I post all the interesting stuff to these pages (and there's a bit of it), and these pages are a much more complete and honest version of me than the LJ is.

I've had some ups and downs in the past year. I bought a house, a new car, and I've done some serious redecorating. On the down side, I'm now seriously in debt, and it's beginning to take a toll on how much fun I can have.

I made an oath at Wellspring. Actually, two of them. One was to honour Esus more. The second was to begin the ADF Study Program. I have begun the SP, but I still feel that my devotion to Esus is lacking. I am very much hoping that I get the chance to increase that devotion before Wellspring rolls around again.

The Grove has gone from Protogrove to Grove in this past year, attaining a provisional charter from ADF. I expect that I'll be able to claim 100% increase in members at Wellspring this year. Cross your fingers for us.

The Grove has also become a better-oiled machine. We aren't "well-oiled" by any stretch of the imagination, but we're doing okay. We had one officer resign, and another person took his place, and our Scribe has served us very well. It's nice not to do all the work.

At Summerland last year, we held the first Buffett ritual. I've been asked to do it again, and the main suggestions (actually sing, have cheeseburgers, etc.) have all been incorporated. I expect this year's to be much better than last. You should go to Summerland in 2004!

Brian and I have gotten along a lot better, and he's been an amazing help with my house (I have him do all the "real" work). I became much better friends with Monika, and I really miss her now that she's off in NYC, but it's okay.

PSA has seen some interesting and creative things, most of which it's best for me not to go into. You should really come to meetings if you're all that interested.

I went to two conferences last year, one at the University of Richmond, called "The Barbarians of Ancient Europe", and the other at Harvard called the "Harvard Celtic Colloquium". I had a very fun time at both, got to hear Barry Cunliffe speak at Richmond, met one of my favourite Pagans (Cei) at Harvard, and am now looking forward to next year. I expect I'll probably go again (at least to Harvard).

I was appointed Deputy Preceptor for ADF, which was a bit of a surprise to me. I'd been doing a lot of work for Jenni and answering questions for a long time, but I'm not really advanced or anything else. I don't know what I'm doing most of the time. It's kind of amusing. I still screw up and get stuff wrong on the public lists. One major screwup should have been avoided, but I was highly amused that it came right after someone named me as part of a duality of learned, scholarly Pagans. I was called "Michael the Younger", a reference to my age compared to other scholars in ADF.

I haven't sent out Christmas cards for 2003 yet. It's still on the "to do" list. I need to get it done soon, though. It's been a heck of a few months.

I retired my old fedora, finally. That hat had been through so much, and I hate to see it go. I ordered a new one, but, as luck would have it, my order was rejected because the line had been discontinued. Following that, I found a new place to order from, and got it in the mail recently! You will see it at the next Pagan festival I attend.

I got more than a few pictures scanned in recently. All these are from the last few years, rarities now that I'm in college where people have some sort of agreement that no picture will be taken, because if they take one, suddenly they have to accept having their picture taken. *sighs* Crazy friends.

Anyway, here are a few direct links. Warning, the pictures are, in a word, huge:
Old Fedora | Me in a Doublet | Me (and the Scouts) in Canada | Me (and the Scouts) on the AT
Ready to Fence | Relaxing after a tournament | My pretty blue eyes | Me, Mitty, and the Army
One of my favourite pics (taken by a crazy girl)
Most of those pics are also available on my picture page :)

Projects for next year? Oh, I don't know. I've considered giving the website an updated look, and I've also thought about opening up more pages and more old essays. I want to create a mosaic of Eris on the south side of the house, and am looking into ways to do that.
01/30/04
Oh, we have updates this time.

There are two new rituals that I put up.

There's a new essay, a new poem, a new musing or two (or three!), and a couple of nifty little easter-eggs hidden in the pages.

A picture of my old fedora is forthcoming, as well, as are new altar pictures.
01/09/04
As the secular year turns one more, I'm still sitting pretty, ever young and handsome.

And just a little cocky.

Oh, I have big plans for this year. Of course, to let you in on them might be terribly antithetical to tell you what they all are. No matter how you slice it, though, this year will be a fun one.

I recently got an IM from a friend I rarely talk to any more. It was good to hear from him.

Christmas cards are in the works. Not a single one has gone out yet, but (in usual fashion) they'll be out soon.

There are a couple of interesting new essays, including one of my favourites, The Man in the Mirror. I have added two poems (1, 2), or rather one poem and a set of them. Not sure I like either one, but what can I say, poetry is weird.

Probably most importantly, ADF has approved new DP requirements. I've updated my DP stuff to include the new req's, and I've improved the linking system. I will be working on the DP requirements that either no longer fit, or that are brand new. Heck, if Jenni is going to appoint me Deputy Preceptor, I kind of have to do the new req's. I can't stand people who never do a curriculum, yet think that they're entitled to pass others off on the requirements.
---
Check out the old 2003 entries!

Content © 2003-2005, Michael J Dangler
Updated on 12/19/2005. Site Credits / Email Me!
Basic site design from ADF.org
(Yes, I stole it!)