Pagans: Sacrificing time, not each other
The Lantern, Ohio State's student newspaper
By Adam Godfrey
Published: Monday, October 4, 2004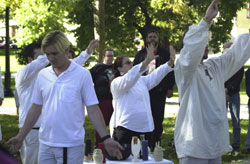 Media Credit: Adam Godfrey
Wild orgies on the grass, sacrificial altars begging for blood over the sidewalk and an informational session entitled "Stealing the Soul of the Common Man" are just a few of the things that could not be found at the Pagan Pride Day held on the Ohio State South Oval yesterday.
In fact, Pagan Pride Day never incorporates any of these things. What it does incorporate is a healthy mix of beaded jewelry, sweet-smelling candles, interesting Tarot readings, intricate Henna body art, beautiful music and, of course, a Harvest Ritual.
Often times movies, television and books portray pagans as a group of people who are heartless and lack any type of moral makeup. They are sometimes thought of as people who sacrifice people and animals for the sheer fun of it, or as a lost, misguided group who will never amount to anything.
Pagan Pride Day is a way to change that misconception. Every Oct. 3, pagans try to replace doubt and harmful hearsay with actual experience. They invite anyone and everyone to come and take part in the celebration of their lives where they get together and show the world that they are real citizens, with real jobs and real families. It is their time to show everyone that they're really the same with only some differences of belief.
This year's celebration brought out more than 100 people.
"Last year, I think there were only 72 people, and that included the people that were working and volunteering, so this is a lot better," said Jo Gifford, who was busy helping out at the information booth.
While at the information booth, Gifford also had voter registration forms on hand to offer people who have not yet had the chance to register.
"It's not that we care who anybody votes for - we're not trying to change anybody's vote one way or the other - as long as people get out and actually vote, then it's great," Gifford said.
Pagan Pride Day is not only about disproving myths. It is also a great opportunity to help some people that really need it, said Barbara Fisher, the workshop coordinator of the celebration yesterday, sponsored by the OSU Pagan Sudent Association.
"The Pagan Pride Day is organized not only to let the public know that pagans exist and we're not scary people, but also to raise money and food donations for local charity," Fisher said.
Every year, the event has food donation areas set up where visitors can drop off non-perishable food items or give money so that more food can be bought for those in need. The donations this year are going to help the Clintonville Community Resource Center in Clintonville, Ohio, just as they did last year.
"What we did last year with the monetary donations is we went out and brought food with it, and added it to the food that was collected and took it to the Resource Center," Fisher said. "We got over 200 pounds of food last year."
She doesn't know how much food they'll have this year, but is hoping for a decent amount.
The gathering of food is symbolic, Fisher said.
"We're harvesting food to give to people who are less fortunate than us," she said.
This harvesting is an important part of the celebration. People would typically grow crops and bring them to the event, but because many pagans live in the city now and growing crops on an apartment balcony is difficult, the harvest has taken this slightly different route.
"That's where the gathering of food is symbolic," Fisher said. "We look at harvest as a more metaphorical thing in what we harvest in our lives and in our personal selves and how we can bring that back to the community."

Content © 2003 - 2004, Michael J Dangler
Updated on 11/04/2004. Site Credits / Email Me!
Basic site design from ADF.org
(Yes, I stole it!)