Black magic spooks shoppers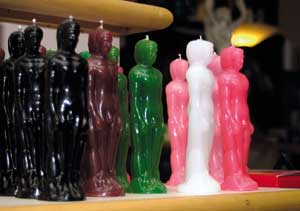 Media Credit: Morgan Wonorski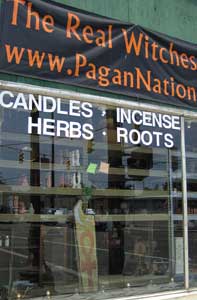 Media Credit: Morgan Wonorski
A resident cat walks in between several religious figurines in Salem West, a dark one-room store in the Short North. Several books about magic spells, paganism and Wicca are displayed throughout the store. Mannequins are adorned in long capes with hoods.

Sound spooky?

"It seems so bizarre anyone would be scared to walk in a store on High and Fifth with a neon sign in the window," said AJ Drew, the owner of Salem West.

Still, people are.

"I wouldn't want to mess with witches, because I wouldn't want to get cursed," said Erik Zadrozny, a junior in family resource management.

Drew finds it strange that people are intimidated to enter Salem West or think it is an occult store.

"Occult means hidden," he said. "We advertise in the phone book and have big signs in the windows."

Salem West has been in the heart of the Short North for nine years. It caters to pagan religions, offering a wide variety of books. Candles, incense and herbs are also big sellers at the store, as well as figurines and statues, which are often handmade by Drew, who is active in the pagan community. He has written seven books on topics pertaining to pagan ideals.

Though the store's focus is paganism, patrons do not necessarily practice pagan religions.

"Every now and then we see what I swear is a Catholic priest come in," Drew said.

The store offers books on Christianity and several types of Bibles.

Because of the varied topics, many people have developed a curiosity about the store.

"I'd go in to see what it's like. You don't see this kind of store every day," said John Gambrel, a senior in family resource management. "It's intriguing."

Drew had no motive for opening the store, but he does use the store as a means to sell products he would otherwise not have the opportunity to sell.

"There are things I want to sell, but the only way to sell them is to sell them to stupid people," Drew said.

Patrons are often interested in the products relating to magic.

"Some people come in and are dumb. They'll burn a green candle and oil and think they'll get lots of money," Drew said. "Dumb spells are for dumb people. A great deal more can be accomplished using magic."

Drew defines magic as using the mind to manifest change in the world.

Drew is concerned people use magic for shallow reasons.

"Visualize world peace, dammit," Drew said.

The store is popular with the Pagan Student Association at Ohio State. The group meets to discuss various pagan religions and issues.

"Several people do work out of this store fairly exclusively," said Mike Dangler, president of PSA.

The store also serves as a forum for those involved with the pagan religion.

"A lot of times people find out about the stores and not our group and vice versa. AJ's been very good about letting us leave information," Dangler said.

Content © 2003, Michael J Dangler
Updated on 06/03/2003. Site Credits / Email Me!
Basic site design from ADF.org
(Yes, I stole it!)