Students celebrate Pagan Halloween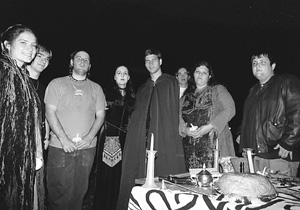 Media Credit: Sarah Brown
On Monday, the Pagan Student Association celebrated Samhain, the pagan version of Halloween, by holding a non-denominational public ritual in front of the main library.

About 20 people, most dressed in black cloaks, performed the ritual in a large circle illuminated by candles.

Michael Dangler, a senior military history major and member of the Pagan Student Association, said that Samhain is a celebration of the last harvest, the end of the year and the beginning of winter.

"Samhain is a time of reflection, of looking over the last year and remembering our ancestors as the year ends," Dangler said. "Tonight is when the veil between this world and the next is thinnest. One can cross over, see fairies, the whole works."

Ingrid Eyen, a freshman psychology major and member of the Pagan Student Association, said that the ritual also is performed to honor the deaths of the gods.

"It is a way of saying 'thank you' as we tuck the gods away for winter," Eyen said.

Participants began the ritual by meditating and then walked around the circle chanting, after which the area was protected from evil spirits by smudging.

"Smudging is when you take a bundle of something, in this case sage, light it, blow it out and then use the smoke to protect an area," Dangler said.

After the area was protected, an altar was set up and candles were lit while participants invoked spirits.

The ritual ended with the cake and ale celebration. In this part of the ritual, cider and cookies were used to signify the feast that was being offered to the dead.

Dangler said that the ritual was performed in public in order to dispel common misconceptions about pagans and to let other pagan students know that the organization exists.

"People think that we worship the devil and sacrifice animals and we absolutely don't," Dangler said. "We don't even believe in the devil, so how could we worship him?

"Pagan is simply a term used to describe many Earth-based religions," Dangler added.

The Pagan Community Council of Ohio also participated in the ritual.

Content © 2003, Michael J Dangler
Updated on 06/03/2003. Site Credits / Email Me!
Basic site design from ADF.org
(Yes, I stole it!)